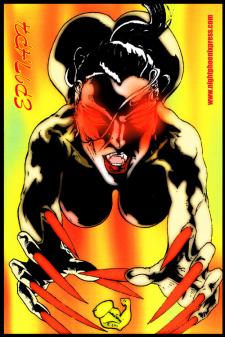 Change is on the way! In fact a sweeping change. Epitaph and all related books will be put on hold until after the film. Since the movie and film are so tightly integrated we our funneling all of our resources into the film. The film will act as an issue #0. But understand there's a method to the madness. Up until now the Epitaph story had been loosely held together based on the pretty random events in "Epitaph: Beginning of the End". The series was based around Victor Locke, but looking over future scripts and stories we've decided that there could be more character realization. Simply put that means better writing. Victor is supposed to have his own series which would relegate "Epitaph" to a book of tightly interwoven stories that effect the NPP Universe as a whole.
The "Epitaph" comics will be written and move more like a novelized film. If the film is issue #0 the continuity should flow from issue #0. The characters will remain the same but the issues of continuity will have to be solved. The "Beginning of the End" story, (which was originally penned in 2007 or 2008) will serve as a basis for who the characters are and what they're about. But we're going to try to make this thing something long lasting.
If you want to lunch a universe (Marvel, DC, Image, ect) you have to work with full stories and that can be built on. The purpose of "Epitaph" series is to be able to build. Each character being rich in depth and having rooted motivations. Epitaph was never slated to be an ongoing series. It was a collection of mini-series that spun off of other books. We plan to continue down that path, but everything will be tighter in the future. Currently the "Beginning of the End" book, which the movie is actually based around in some ways, is still (loosely) in the continuity and will hopefully be a great collector's item someday.